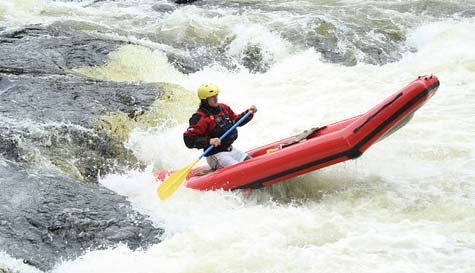 Yes, we know this sounds ridiculous. But overlooking this one on your big weekend might end up being a big mistake. Duckies are epic fun that you and the lads can get stuck right into ahead of a big night out. It's also a great way to build up a thirst.

Our epic stag party duckies will see you and the boys climb into these two-man crafts which are hybrids of kayaks and white water rafts. Designed purely to hit foaming water they're long-nosed (you might say 'beak-like'), square-ended kayaks controlled only by you and your partner's skills with a paddle as you fly down fast and furious rapids, so pick your co-pilot carefully. This really is up a creek without a paddle stuff (well it will be if you drop it) and you can expect a few brown trouser high-speed thrills along the way.

Despite the odd name, these boats can be absolutely terrifying, providing huge thrills and even bigger laughs as you take on the rapids. After arriving at our centre you'll quickly stop sniggering at the title of your trained professional ('ducky instructor') after the obligatory safety briefings and you've seen the rushing track of water you'll be riding on.

There'll be mind-bending twists; adrenaline-pumping turns and frankly some drops that'll see even the most fearless of stags break out in a cold sweat. These duckies really do have the spirit of an extreme water sport. Our stag party duckies are perfect for thrill-seeking stags as well as groups who want a totally new experience that will leave the lads buzzing for days. This is a white-knuckle, high octane, thrill ride where the lads will take on Mother Nature and give her a damn good thrashing. With added "duckies".