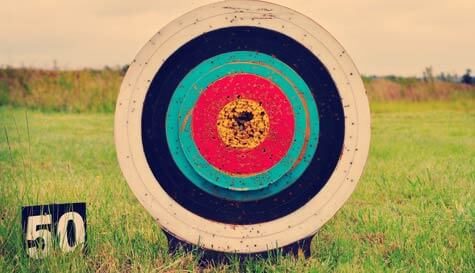 For years, arrows have been used to settle arguments: just think Agincourt, Hastings, Braveheart, Lakeside. Well, now your main man is about to enter a lifetime of wedded bliss, he better shape up! This weekend is your turn to do battle and record your own famous victory, stag-style!

An experienced instructor will teach you and your band of merry men to draw and fire bows at this indoor site. They'll introduce you to the equipment and give you some top tips on how to shoot (how to draw a bow, how to spot the target, how to avoid shooting your opponents etc.) Robin Hood might make it look easy, but it takes lots of poise, skill, accuracy, hand-eye coordination, timing, balance and a whole load of other things that your hangovers will deny you.

After a brief practice session, it will then be game on as you shoot it out to take the title. You can opt to either compete individually or we suggest adding a bit more rivalry and banter by splitting the lads into teams or pairs. You can even spice up the competition with a friendly wager or forfeits for the worst shots, so long as there are no bad losers in the group!

Archery is a great chance for the boys to get some fresh air and add that healthy dose of competition to the weekend. Who doesn't want to get their hands on some medieval weaponry?! It doesn't matter whether you can shoot like merry men or you've never touched a bow and arrow before, our instructors will be there to keep everyone pointing in the right direction and make sure the groom doesn't have to go home and explain his new piercing to the bride-to-be!

Please note: Any stags clearly suffering the effects of alcohol consumption or still under the influence from the night before will not be allowed to participate but will still be charged.