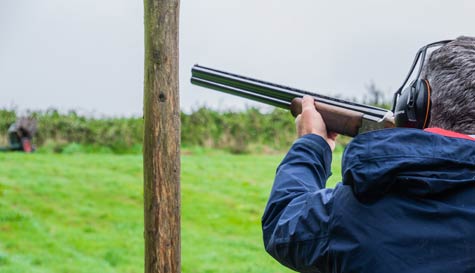 There's a good reason clay pigeon shooting is an Olympic sport, it's one of the toughest shooting disciplines, it just so happens here in Blighty we're rather good at it. Britain and Scotland, in particular, have produced a number of Olympic and World champions. And now it's your turn on your Edinburgh stag do.

For those that have never fired a shotgun before this is a massive buzz and something every man should do at least once in his lifetime. The recoil is pretty immense so make sure you listen to the instructor to make sure you're placing the stock properly so you can focus on the target and not worry about the bruises.

You and the lads will have a 25 clay shoot-off at one of Scotland's premier shooting grounds. The grounds have been carefully constructed to give you the best shooting experience consist of 30 different traps, including a 70-foot tower. The CPSA certified instructor will get you all familiar with the Beretta 12 bore shotgun with some practice shots, some helpful coaching to make sure everyone is 'making clay dust' and also to keep everyone pointing in the right direction.

It's then time for the Call of Duty fans among you to show all those hours weren't completely wasted. There'll be a prize awarded to the sharpest shooter. Our shooting grounds also have fantastic catering facilities, so remember to bring some cash for food and drinks.