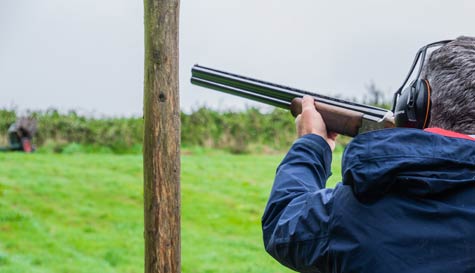 At our superb Exeter stag party clay pigeon shooting facility the shooting takes place under an open-fronted, decked building, not in the middle of a wet and windy field. In fact, the whole session is epic from start to finish.

If you've never fired a 12 bore shotgun before you're in for a massive adrenaline rush, as there's nothing quite like squeezing the trigger, feeling the kick and seeing the clay pigeon disintegrate into clay dust. This is a full-on competition, forget Call of Duty, this isn't like sitting on the sofa and firing at a screen, but you will get to find out once and for all who is the group's best shot.

After one to one tuition, you'll take part in a clay shoot off with a number of different 'birds' or targets including; the driven pheasant, springing teal and dropping duck, (which we thought was a Japanese martial arts movie?!?). The course is designed with both the novice and the pro in mind, even shooting newbies will soon be bang on target.

As you'll all be taking it in turns to shoot with the rest of the lads watching on there's plenty of room for great stag party banter and our Exeter stag do clay pigeon shooting really is a great and highly addictive sporting challenge suitable for a mixed group of stags.