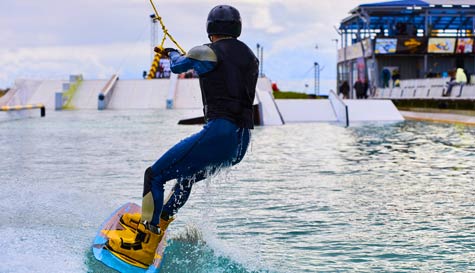 In the coastal town of Exeter, there's plenty of epic water-based stag action to be enjoyed. But if you're after a wet and wild experience that's perfect for everybody from the would-be surfers to the hardcore hovercraft enthusiasts, wakeboarding is the ideal activity for you. This is a fast, furious water sport that provides some serious thrills as you're dragged across the water with high velocity by a speedboat that treats water in the same way a 4x4 treats rough terrain.

Whether you're a complete newbie to water sports or you're a seasoned surf dude, you'll want to listen closely to our experienced tutors. They'll offer you some top tips for staying on your board, and most importantly they'll teach you how to look cool doing it. With their help, you'll cut through the waves with style... right up until the moment you take an impromptu dunk in the water.

Falling in is all part of the fun though, and although there's sure to be a healthy amount of banter in your direction should you take an unexpected plunge, soon enough you'll be laughing at your mates trying (and possibly failing) to stay afloat on their own precarious boards.

If you've been waterskiing, surfing or even snowboarding before, there's a chance you could be quite good at this. But if not, then don't sweat it. Our Exeter wakeboarding is the kind of activity that everybody can get stuck into. It's white knuckle fun that's sure to provide big laughs and bigger thrills whether you're pulling off crazy moves on the waves or you're just trying to stay afloat.