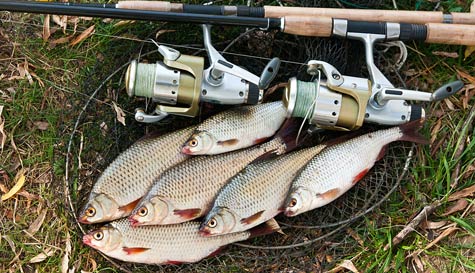 Every lad knows that since the dawn of time, when man has fancied a bit of peace and quiet (possibly from "'er indoors"), a day with a rod, out on the open waves is the perfect retreat. Add to that some great mates, plenty of banter and some healthy stag competition and you have a great day.

With our fishing activity, you and your stag party will be able to get away from it all in a variety of locations, but wherever you are you'll never be far away from good times with the lads, out at sea getting stuck into some angling action. You'll cast off, sit back and relax with a beer in hand and chill. Alternatively, you can up the ante with some stag fishing bets and maybe Stag Forfeits for those that don't manage to land anything.

You'll have plenty of opportunities to banter with the boys during your session, which can last either half or an entire day if you really want the complete fishing experience. Everyone will get to have a real go at getting back to nature as they hunt like real men in the water. If you catch something big enough, you could even take it back to land for dinner that evening.

Even if you've got lads who've never touched a fishing rod before, experienced instructors will be on hand to teach you how to get the most out of your rods, so you can guarantee everyone will have a decent chance of getting the catch of the day. Which is good too, because there's sure to be some classic stag competition as you try to catch the biggest fish and become stag fishing champion, and find out who should really have been left to catch crabs back on shore!

Fishing is a great activity for any competitive stag party, it's sure to give all the lads big laughs as well as big thrills when they get that first bite as they get fired up for that big night back on land.