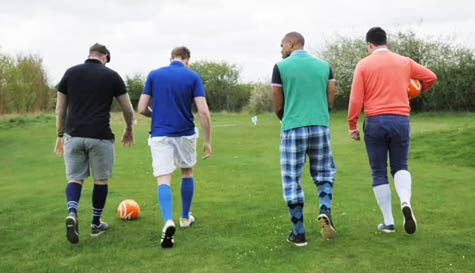 Foot Golf is an epic mash-up of two of the world's greatest games - football and golf - and is perfect for sports-loving stags. The rules themselves are pretty much based on the sport of golf, the essential difference being that instead of a club and a tiny ball, you're using your feet and a full-blown football.
"Fooorrreee!!"
We have three variations of the game depending on your location:

Unguided
There are no restrictions and you're free to tee off when ready (as long as there are no hazards/unsuspecting players on the target for you to strike). You can choose your own style, but we suggest match play. You can even open a little side wager/forfeit on the various holes: "loser buys the beers!"
Match Play
We'll provide a referee who will oversee the game, uphold the rules and try not to laugh at any wayward shots. For this version, golf attire is required by the course.
Stag Play
Much like the standard competition version of the sport but with added forfeits which the referee will see are upheld. For this version, golf attire is required by the course.
The Dress Code
Some of the courses will require you observe normal golfing dress code etiquette:
polo shirts, tailored shorts and astroturf trainers or normal sports trainers are widely acceptable. Alternatively, you could go for classic golf fancy dress and either go old school or Pringle to the max.
Basic Rules
The ball must be completely still before it can be struck.
Tee shots must be taken behind the tee line.
Play the ball as it lies.
Only one ball can be in motion at a time.
If a ball enters a water hazard, a one-shot penalty will apply.
No intentional distractions are allowed (although this is a stag do so...)
The furthest ball from the hole is played first.
The maximum score is 10 shots per hole.
Remix
To keep things interesting and add more of a football element, why not try:
Back healed putting
Bunker and water hazard forfeits
Weak foot tee-off
Closest to the pin wagers