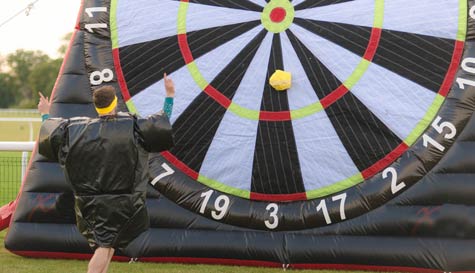 Football, the greatest outdoor sport ever!
Darts, the greatest sport to ever be played within shouting distance of a bar.
Finally, these two awesome sports are coming together for a challenge of skill, accuracy and the ability to take the p*ss out of the groom.
The basic premise is simple genius. You'll shoot modified footballs at a giant inflatable dartboard, the balls stick to the numbers (similar to Velcro) to show your score. The board is massive! It's so big that even those players that normally couldn't hit Kim Kardashian's ass with a bazooka should be able to get some points on the board.
The players don't have to wear awful shirts and big chunky jewellery but it would be so much more fun if you insist on fancy dress.
Fancy dress ideas
Dart players
80's footballers
80's TV stars
There are a number of different games you can play, some that might seem familiar from the TV game show 'Bullseye'. You can play in teams or individually.
"That's a balls-eye!"
But that isn't even the best part. The board is double-sided. While one side seemed like a fun, innocent, even friendly game of darts, the flip side is all about stag laughs. On this side, the board has a set of forfeits for you to shoot at. The groom or best man will get to select forfeits for the guys to aim at.
This is a superb addition to any event a mix of great sporting battle and a little stag party humiliation. The event works best alongside some of our other activities so ask our team about the best combination challenges for an afternoon of sporting carnage.