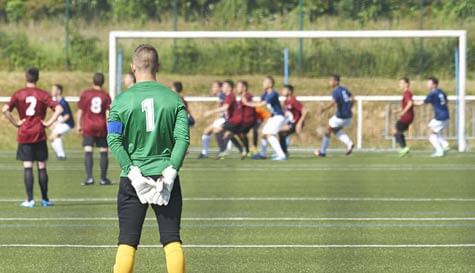 All great stag weekends need some healthy competition and there is surely no greater sport designed to bring lads together quite like "the beautiful game".

But don't settle for a jumpers for goalposts style kickabout, this is a stag party gentlemen, just as the great Mr Blanchflower said: "It's about doing things in style, with a flourish". So if you're itching to get the lads on the pitch for a stag party football match so they can show off they're Ronaldo-esque skills (or have they only got Ronaldo tribute hairstyles?!?) then get things done with real finesse.

Not only will we arrange pitch hire and a referee we can provide personalised stag party football match kits for a real memento of the weekend. You can even create your own team name based in dedication to the groom; William's Wanderers", "Paul (not so) Athletic FC", "Stag Party United". Football is a really cost-effective addition to any weekend and something you know the lads will love.

Or for a whole new take on football why not try Bubble Football?

And for stags heading overseas, we can provide some simply stunning stadiums for you to play in to really give the game a sense of occasion. Sadly the one thing we can't do is magically make the players any better, so if you have any donkeys in your team while we can make them feel better and look better we can't help them run any faster or be able to hit the proverbial cows arse with a banjo.