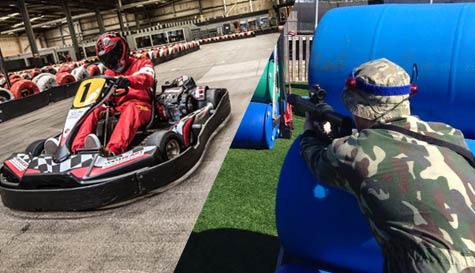 Why settle for one ordinary day when you can pack in masses of man-sized action, combat and a stag party fight to the death/pub.
Go Karting
Go wheel to wheel at one of the UK's best tracks. You'll be given helmets and racing overalls before being let loose on the 400m multi-level track that can race 14 karts at a time. Groups of 8+ will have exclusive use of the track and plenty of time out on the tarmac. It's the most fun you can have on four wheels.
6 practise laps to get warmed up
10 lap qualifier race
16 lap extended heat race
16 lap grand final to decide the winner
The action ends with a podium presentation to the fastest drivers.
In between the action you can head to the venues pizzeria and café to refuel.
Laser Warfare
Forget Call of Duty, that's for lonely bedroom soldiers, teenage internet warriors and wannabe heroes. You and the guys will be armed with semi-automatic weapons and camouflage suits before being split into teams and sent into the all-weather battle arena. Here you'll fight it out in a number of different mission scenarios which may include;
Domination
HQ Defence
Team Deathmatch
Last Team Standing
Bomb Squad
Close Protection
Medic Alert
You'll need teamwork, tactics, precision and hopefully not be teamed with the groom's cousin who couldn't hit Beyonce's backside with a bazooka. There are no prizes for second place, it's time to destroy your enemies. And if that means the groom, so be it. "Yipee-kay-aye mother hugger!"