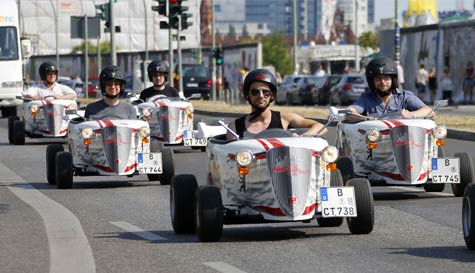 Kicking off near Hamburg's infamous red light district, this is the kind of superb stag activity that makes StagWeb No1 for totally off the wall experiences that have stags laughing into their pints long into the evening.

Yes, Paintballing in Hamburg is epic, the Go Karting is one of the best we've seen but nothing compares to the total man madness of getting these mean machines out on the road.

Each stag will need to produce a driving licence before he'll be allowed behind the wheel, you'll then get shown the hot rods easy controls. There is a zero drink-drive policy in Hamburg so you'll have to save your beer fuelled cheer until after the event, but it really is well worth staying on the wagon for a couple of hours so you can get on the road.

Once the quick formalities are out the way you just have to grab your helmets and take to the (not so) mean streets of one of Europe's best party destinations. Hamburg is a superb city, there's loads to see out on the road (you'll have a guide with you the whole time) but doing it in these machines just makes it even better. But be prepared for your own paparazzi as tourists will crowd around and get photos of you every time you slow for traffic. One of the mad things about our stag party Hamburg hot rods is that everybody smiles, people that see them will point and smile and you'll find yourselves grinning like Jimmy Carr's accountant throughout the whole ride.

The hot rods themselves look fantastic, the views are spectacular and the whole experience is just about the most fun you can have with your helmet on!