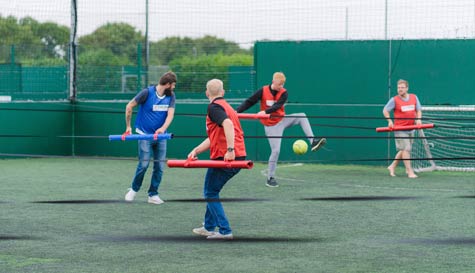 "Well Gary, what they lacked in strength in depth they more than made up for in buffoonary and dirty tactics".

Strapped into a life size version of a table football game you and the lads are on equal footing for a big match with a difference. This is a totally novel and hilarious take on the beautiful game where silky skills are eclipsed by a will to win. Of course there is still room for the odd trick shot or touch of showboating and you can still string a few slick passes together, but you're far more likely to get sent to the sin bin for 2 minutes than you are to beat the opposition single handed. This is all about team fun and a team spirit among the lads.

Table football isn't a stand alone activity and should be combined with other activities to create a knockabout multi-activity afternoon. You can combine it with;
Sometimes you gotta go BIG or go home, so we ramp up the fun for you by adding extra activities to combine with your human table football session with some crazy sporting stag madness such as Beer Keg Racing or Axe Throwing. This gives you a massive day of great competition for all the lads to really get stuck into and with a varied array of activities to choose from that few/none of the lads will have tried before which does level the playing field, meaning all the lads can really get into the thick of the action (except axe throwing, it's probably best to keep a safe distance from that one!).