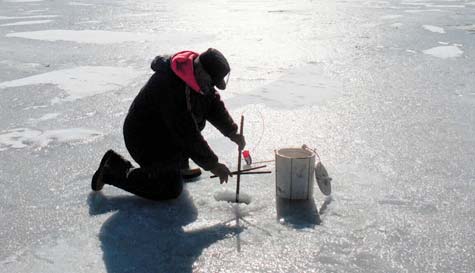 If you and the lads are looking for something a little more chilled-out (Ha-ha) on your stag weekend, then stop! You've found it! Stag party ice fishing is the perfect way to get some rest and relaxation while getting a load of this 'Ice Age' setting. This is a completely unique activity, and it's exclusive to the Baltics, so you know you'll be getting a once in a lifetime fishing experience.

This is fishing like you and the boys have never tried before and definitely a far cry from angling down your local river. You'll be learning techniques practised by Latvian fishermen for years to catch some quality Perch, Pike and Trout in this phenomenal frozen lake.

You'll wrap up warm before heading out to the lake (you don't want the bride-to-be to mistake the groom for the abominable snowman on return) and get ready for a fishing experience that you'll still be talking about for years to come!

Fish through man-made holes expertly drilled in the ice by threading your line and hook through and waiting for that first bite. You'll have a ready supply of hot tea available to keep you warm and your closest mates at hand to have some quality banter with as you take in the epic frozen scenery that surrounds you.

Ice fishing is truly an awesome activity for you and the lads to get involved with on your big weekend whether you're a fishing pro or a complete newbie. It's low key fun that is perfect for getting out of the city before heading back in for the night's events.