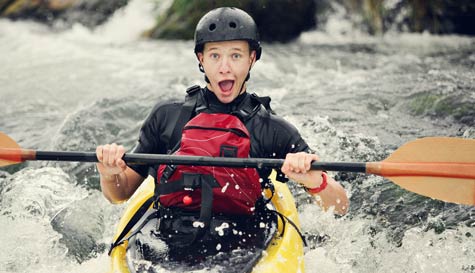 If you're after totally wet and wild stag mayhem on your big weekend, you've come to the right place. Our stag party kayaks are the real deal, they'll get everybody's blood pumping and they're sure to absolutely bulldoze the ice between any stags who might not have met before.

Unlike a canoe which uses a single-sided paddle, kayaks give you the power of two blades with which to move, offering you complete control. However, it won't be as easy as just rowing if you're going to go for the more extreme thrills that kayaking can offer the boys on your stag do.

Our courses will feature obstacles both natural and man-made for you to find your way around, as well as some alarmingly fast torrents of water and rushing rapids for you to fly down. If you want it to be, kayaking can be as white-knuckle as even the most extreme watersports.

But if you're after a more relaxed afternoon out, then don't sweat it. Kayaking can also be as easy as going for a chilled-out splash in some fantastic surroundings, and with all those paddles flying about, who's to blame if the groom just happens to get an absolute soaking?

Our stag party kayaks are perfect for lads who want to get out of the city for some epic water thrills before heading back to town for that big night out!