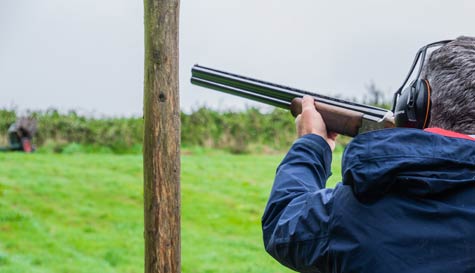 Clay pigeon shooting is an absolute classic and with good reason, it combines great sporting action, a competitive challenge and bloody big guns! It's also one of the harshest hangover cures known to stag-kind.

Our Krakow stag party clay pigeon shooting is a great place for shotgun virgins and experienced shots alike to enjoy this Olympic sport. And it just so happens to be a sport us Brits are really good at having picked up medals at World Championships and Olympic games over a number of decades.

The activity will begin with your group being picked up by our local female guide and taken to the shooting ground. The English speaking instructor will explain gun safety before showing each stag how to stand and 'lead' the gun through the target in order to see it disappear in a shower of clay dust.

The outdoor venue has a great range with a variety of traps. Each stag will take it in turns to step up to the trap while the rest of the guys sportingly offer him terms of encouragement and won't be trying to wind him up in the slightest. They'll then be standing behind him, telling him exactly what they think of his shooting. Not only is this a great sporting contest, it's also superb for banter between the guys or laying down a gentlemanly wager or two.

Each stag will fire 20 shots in total, meaning precision is key if you want to walk away as Top Gun. At the end of the session transport will be waiting to take you back to your accommodation or onto your next activity.

You can upgrade to include an extra 20 extra clays, please speak to our team for more details.