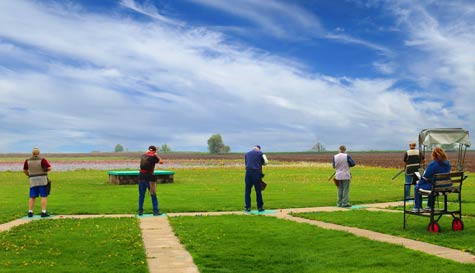 Do you and the boys fancy getting stuck into some seriously competitive shooting action on your big weekend? There's a load of different ways to get hands on with some seriously powerful weapons, but one way or another, they're all going to hurt.

Whether you're getting pelted with paintballs or you're getting a dead arm from the kickback of a shotgun, guns aren't exactly meant to play nice. This isn't ideal when you've possibly got a hangover that feels like Arnie himself has got your head wrapped around his bicep.

So if you're looking for some more relaxed shooting action, laser clay shooting could be the perfect activity for you. It's laid back fun that uses technically advanced electronic weapons that demand absolute shooting precision to demolish the clays. But with virtually no kickback, you'll be able to do the best impression of the Terminators laser targeting system yet!

Fire infrared laser beams at flying clays and prove to the boys that your sharpshooting skills aren't just limited to the multiplayer arenas of Call of Duty. These bad boys will even simulate the sounds of a regular clay game, and you'll definitely quickly forget you aren't shooting live ammo with a scoring system keeping track of every hit and miss.

Take on a range of challenges with the boys and find out who's a 'Top Gun' while having some top quality banter. Stag party laser clay shooting is relaxed fun that'll see you and the lads get outside for some fresh air in a unique experience that the groom probably won't have tried before.