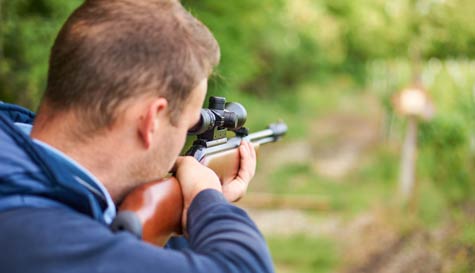 Tired of hearing the lads argue over their Call of Duty expertise? Surrounded by a group of majorly competitive stags who really shouldn't be trusted with live ammo? Want to create your own stag weekend big bang theory?
Then what you need is a Leeds stag weekend air rifles shoot off.
As competitive stag activities go this really is one of the best, all the thrills of guns and competitive stag banter, without the risk of actually risking life and limb by giving a hungover stag a gun. Although these are no toys and the top of the range Pro-Spec air rifles could still do a stag some nasty damage so make sure you listen to the instructors.
Set in stunning grounds, once you arrive at the venue your group will be given a quick safety briefing to keep everyone pointing in the right direction at all times. You'll then get your hands on the weapons. While you might be feeling smug and confident at this point things will soon change once you see the targets.
You'll be faced with traditional targets, spinners, knockdown and reset targets, snooker ball targets, all at placed at different ranges and with different degree of difficulty. The instructors will be there to help turn your CoD heroes into crack marksmen.
Why not add…
Get a great deal when you add a second activity to your day of stag sporting challenges:
Archery
Assault Course
Blindfold Driving
Bobsleigh
Clay Shooting
Climbing
Crossbows
Gun Run
High Ropes
Leap of Faith
And much more!
Or why not take push yourselves to extremes with our full-on Stag Activity Day? Read more…