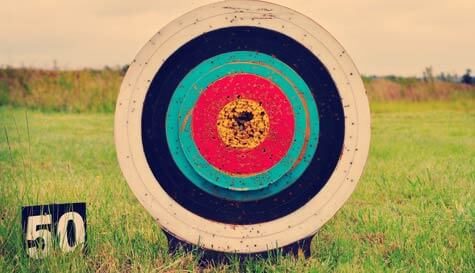 You might think you're a bit handy slinging arrows down the pub but our Leeds stag party archery experience takes things to a whole new (potentially deadly) level. You and the lads will take on a full competitive archery range to see exactly who is top of the shots and who couldn't hit a cow's arse with a banjo.
Archery is one of England's oldest sports and at one point the reason why football was banned across the kingdom*, in fact, we're fairly sure (with absolutely no historical proof whatsoever) that stag have been slinging arrows on their big weekends since around the time of the battle of Agincourt where our archers gave those Frenchies a proper pin-cushion make-over.
A Master Archer will be on hand to put you all through your paces and do his best to get every one of you hitting the target with deadly accuracy. Once you've all got the hang of things the competitive element of the session will begin as you literally go for gold with other novelty targets along the way to give the guys some laughs.
With the sole aim of converting you into budding marksmen, our Master Archer will be there to pass on his expert knowledge, ensuring you'll be hitting the gold time after time. Look out for a few novelty targets such as water-filled balloons, for bonus points!
Why not add…
Get a great deal when you add a second activity to your day of stag sporting challenges such as:
Gun Run
Plane Crash Rescue Mission
Or why not take push yourselves to extremes with our full-on Stag Activity Day? Read more…