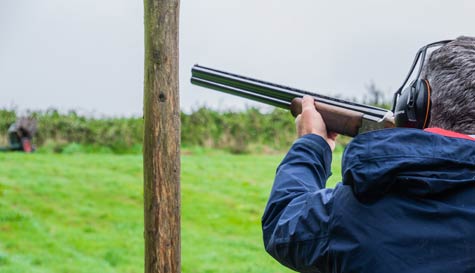 Our Leeds stag party clay pigeon shooting site is epic and well suited to lads with a competitive streak, steady aim, and a propensity for blasting things out of the sky with guns. You'll be in a safe and controlled environment with expert instructors on hand to make sure each stag gets the most from the experience. You'll also get to feel the massive adrenaline rush of seeing the birds fly, 'leading' the clay, squeezing the trigger and feeling the massive recoil as you see the target disintegrate in a cloud of clay dust.

Forget sitting on the sofa playing Call of Duty, our Leeds stag party clay pigeon shooting will decide once and for all which of you is the group's Top Gun.

Our fantastic shooting venue overlooks some of Yorkshire's finest scenery, so you can be sure of a great setting for your activity, whether you're an experienced shot looking to improve your scores, or a complete clay pigeon virgin. You'll be taught by former shooting county champions and members of the England shooting team, to literally keep you pointing in the right direction. But being such experienced coaches means all the lads will soon be finding their own big bang theory and giving it both barrels.

This is a superb sporting challenge for lads looking for a new adventure.