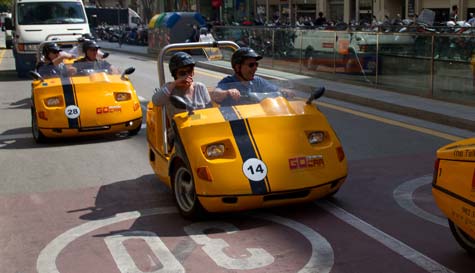 Sightseeing, for some reason the very words bring to mind images of brightly dressed tourist clutching maps cameras and wearing plastic, see-through rain macs.

But sightseeing in a Go Car... Now that is cool! If you are heading overseas for your stag party (and we heartily agree that you should) then you really should take the time to have a nose about. Go Cars put you right on the map and in the heart of the city as you zip about in these nifty little convertibles in convoy through the streets of one of Europe's most stunning cities.

Each car holds two and is completely interactive with a commentary as you drive through the city. Get the rest of the lads lined up behind you as you cruise the (not so) mean streets of Lisbon and you'll have a weird cross between Hell's Angels and 'Toy Story'.

This is sightseeing with a difference, you'll have plenty of laughs and a really memorable afternoon in the sun. You can stop for photos or coffee anytime you want or just make the most of your time to visit as many sights as possible in the allotted time. But...

We don't want to sound like anyone's mum here but please remember this isn't a race and like any other major city, traffic can get heavy at key times. So while enjoying a great time please respect the rules of the road and don't let any lead-footed stag get up close and personal with lampposts, buses or traffic police.