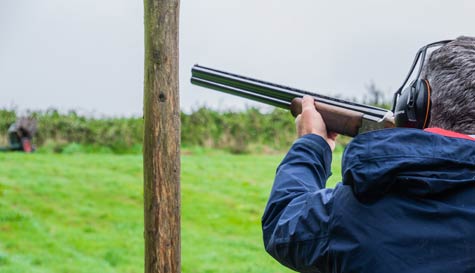 "Go ahead punk, break my clay!"

Our Liverpool stag party clay pigeon shooting has always been one of the most popular activities for lads on a stag party to try, and no wonder. It's macho and competitive, swaggering into the countryside with a gun in hand and indulging your most primal hunting instincts. If you're a clay shooting newbie and that all sounds too good to be true, just wait until you feel the adrenaline buzz of shouting "Pull... seeing the bird fly, chasing the target, gently squeezing the trigger before feeling the massive recoil and seeing the target disintegrate into clay dust.

It's the kind of experience you simply don't get to enjoy too often and wandering around Liverpool city centre waving a rifle and blasting the crockery out of John Lewis is unfortunately strongly discouraged. So our custom-built Liverpool stag party clay pigeon shooting site is definitely the next best thing and it won't land you in trouble with the law. A little less primal and primitive, sure, but with a huge range of clays, traps and vantage points plus expert 1-to-1 instruction to make sure each stag gets the most from the session, this really is a great stag sporting challenge.

Plus once the practice is over and the competition starts you can be sure of some brilliant stag banter - "Oi Steve, your bang's out of order!" - as the stags take in turns to shoot one at a time while the rest of the stags watch and give him both barrels.
Why not add...
Double the fun on your Liverpool stag do with a great deal when you add a second activity at this site. There are a number of stag vs stag challenges to choose from;
Segway Challenge
Stag Challenge Day
Clay shooting rewards those cool-headed quick-draw sharpshooters, with lads who have patience, a steady hand and great aim coming out on top. It's suitable for lads of all ages and abilities, making it ideal if you've got a group with a fairly broad age range. It's competitive, relaxed, and the perfect set up for a bit of banter and some forfeits for the loser down the pub later.