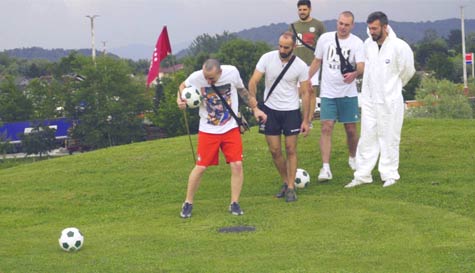 Foot golf takes two of the world's greatest sports and combines them for one of the best sporting mash-ups ever.
The premise of Ljubljana stag party foot golf is pretty simple. The game follows all the usual rules of golf, get a ball from a tee, down the fairway to the other end of the course, onto the green and in the hole. The difference is, instead of teeny, tiny speckled balls and clubs, the game is played by kicking footballs to specially widened holes.
The game is played on a specially designed golf course complete with tees, fairways, greens and flags. Our friendly English speaking team will explain the rules before giving each player a welcome shot. It's then time to tee off in your own Stag Party Open Championship. You can set your own wagers and stag forfeits to add even more excitement. You can also play match-play or pairs to mix things up a bit and create some good team rivalry.
After the game, you can then enjoy an hour of mini golf for more sporting stag competition. Then after congratulating the winner and commiserating with the losers, you can all share some beers. The fantastic course is just 15 minutes from the city centre so it's just a short trip back into town to carry on celebrating.