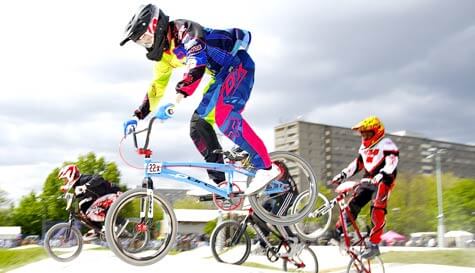 If you can remember the thrill of getting your first BMX as a kid and building your own jumps in the back garden then this is one activity you really shouldn't miss. It mixes the thrill of recapturing a miss/well-spent youth with epic stag party competition as you and your fellow stags go wheel to wheel over a purpose-built BMX track.
After becoming an Olympic event in Beijing 2008, BMX now has a huge following in the UK. With a range of tracks available in London, you can take to two wheels and make your fellow stags eat your dust.

While there is no cycling proficiency test you will need to be able to demonstrate a basic level of competence in front of the instructors with some neat skills tests before you can race (any stag who fails this should face some serious pint penalties).

Once you're all deemed fit to race the real fun begins as you fight it out to become king of the track in what is an awesome day of hilarious and fast-paced action on your London stag do.

Challenging? Yes.
Enthralling? Yes.
Competitive? Yes.
Adrenaline fuelled? Damn right.

Proceeds will go to support Access Sport's BMX Legacy Programme.