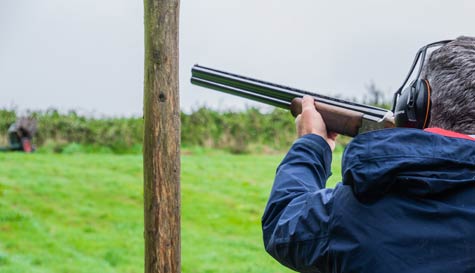 Step away from the games consoles and try your hands with some real shooting irons. Clay pigeon shooting has been one of the most popular stag party activities for years and the reason is simple... It's awesome!
Our London stag party clay pigeon shooting activity is ideal for competitive lads who want their weekend to be bang on. Firing a shotgun is one of those things every man should do at least once in his life. The kick, recoil and sound of a double-barrelled gun goes off right beside your head is a real adrenaline-pumping experience and perhaps the most brutal yet effective hangover cure ever! It's also brilliant fun and the buzz you get when watching a flying clay disintegrate into dust after you pull the trigger is superb and really addictive.
It just so happens that clay shooting is something us Brits are really good at having won a bundle of world championships and Olympic records over the years. So who knows, perhaps there's a future medal winner amongst your group of stags, or maybe it's just a group of hugely competitive yet horribly hungover guys looking for a great activity, whatever the case may be our London stag party clay pigeon shooting experience is something all the guys will enjoy.
This site is fantastic and a nice escape to the country after a big night out. A bit of fresh air and awesome firepower could be just what the guys need. You'll be under the eye of an experienced and APSI qualified instructor who show you all how it's done and then give each stag one-to-one coaching to help him get his eye in.
If the guys love shoot-em-ups on the games consoles then this really does take things to a whole new level and see whether their Call of Duty prowess is all it's cracked up to be. With a real piece of weaponry in their hand will they emerge as your London stag do clay pigeon shooting 'Top Gun' or will it be a case of not being able to hit a cow's arse with a banjo? Only one way to find out... And you can get it booked up today! Call our team for more details.