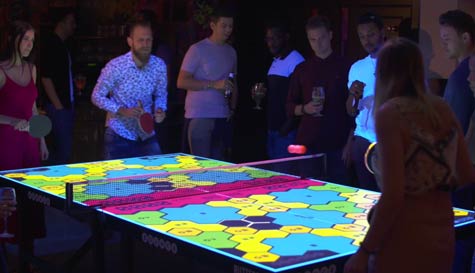 No stag party is complete without some healthy sporting competition, we're not here to argue the merits of whether sporting competition is still healthy if it's in a pub, as far as we're concerned that just makes it even better. Especially when you don't have to walk to the bar, we'll arrange table drinks service so you and the stags can focus on the game in hand and let those balls of fury fly.

This ultra-trendy London venue is the ideal location for some early evening fun with the guys at the start of a big night out. Table tennis is a sport where fitness levels (or even levels of sobriety) are not as much of an issue as say, the London Marathon or football, plus you can't play football in between sipping your pint. As sporting events go this really is ideal for stags that want a laugh and added competition throughout the stag weekend.

You'll have two hours table hire but we can arrange more if you're planning on making this a major sporting event in your stag weekend schedule.
Hold your balls!
This awesome venue has pioneered the latest ping pong trend of #Wonderball. Using state-of-the-art projection mapping, your table transforms into a 9x5ft video game surface adding futuristic effects to normal play, as well as inviting you to play funky retro-style arcade games. It's table tennis meets Blade Runner. Yep, that just happened!

As well as the cool decor and relaxed London vibe, the venue also has one of the original competition tables from the 2012 Olympic games, which is perhaps as close to sporting greatness as some of the stags will come (we'll leave you to judge the validity of their claims of sporting prowess). What we can say is this is a great icebreaker at the start of a big night out.
You can set your own stag weekend tournament and award your own prizes and stag forfeits for those that don't quite come up to scratch.

The venue has a great restaurant or to complete your night out you can team it up with a number of superb stag night activities to complete an epic night out.