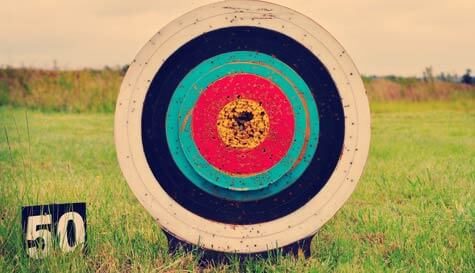 Arrows have been used to decide winners and losers for centuries in some famous sites; Agincourt, Crecy, Hastings, Lakeside, and now Maidstone. You and the merry men can step up to the oche to battle it out and claim the sharpshooting title. "Let's. Play. Darts!"
After a safety briefing and coaching from the instructor to keep you all pointing in the right direction and help improve the stags aim and accuracy. It'll also ensure none of the lads go home having to explain their new 'piercing'.
After a few practise arrows it's game on. You can either shoot individually or to up the ante and increase the competition and banter between the stags you can split the guys into teams or pairs. A gentlemanly wager or stag forfeits might also be in order.
Numerous medieval kings made archery compulsory among young Englishmen to help defend the nation from invasion.
If your town/city has a street known as "The Butts" this will have been the medieval archery field. A "butt" is an archery target.
Despite being the first bloke to own a pair of purpose made footie boots King 'enry the VIII banned football as the new sport was keeping men away from their archery practice.
Big screen Robin Hoods include; Sean Connery, Russell Crowe, Kevin Costner.
Big screen Robin Hoods with bad/non-existent English accents include; Sean Connery, Russell Crowe, Kevin Costner.
Please Note: Any stags arriving drunk or clearly suffering the effects of a big night out will not be permitted to shoot for safety reasons bight might still be charged.