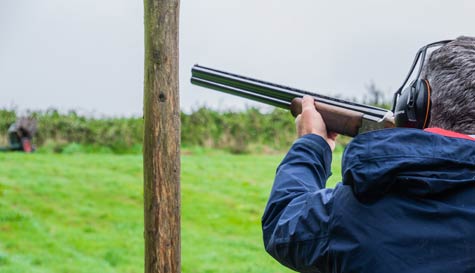 Ever fancied giving shooting a go but are less keen on the whole 'killing furry little animals' vibe? We feel you, chaps, and we've got just the activity for you. Our Maidstone stag party clay pigeon shooting is the classic alternative to more bloody countryside pursuits with bloody great guns all in a controlled safe environment. Clay pigeon shooting is one of our most popular activities, combining exceptional hand-eye coordination, the ability to stay calm under pressure, skill and plenty of great stag banter.

Using mechanical traps to fire two clay target discs into the air in quick succession, it's your job to gun them down as accurately as possible. With a double-barrelled shotgun, the aim is to hit both discs with each cartridge. Once you get into the swing of it, there is nothing more satisfying than taking out both clays at varying angles, speeds and heights.

For shooting newbies at our Maidstone stag party clay pigeon shooting, the power of a shotgun is superb and there's a massive adrenaline buzz to be found once you give the command "Pull!", hear the trap release, 'lead' the clay, slowly squeeze the trigger, feel the gun's recoil and see the target turn into a cloud of clay dust.

Add a competitive element and your mates' terrible jokes ("Oi Dave, your bang's out of order!") and you're in for a top session.