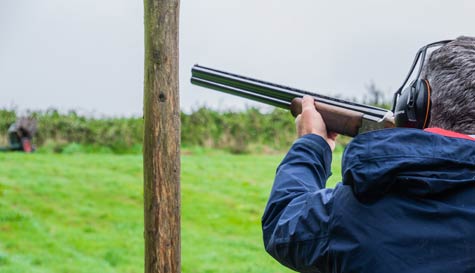 Our Newcastle stag party clay pigeon shooting is one of the best ways to pass an afternoon on your stag weekend because it's fast, focused, and a whole lot of fun. Thankfully, shooting doesn't involve a whole lot of jumping about, so you're free to let your hangover drift away gently and undisturbed. Clay pigeon shooting is an experience not to be missed for shooting newbies. The power of a shotgun is superb and there's a massive adrenaline buzz to be found once you give the command "Pull!", hear the trap release, 'lead' the clay, slowly squeeze the trigger, feel the massive recoil and see the target turn into a cloud of clay dust.

There's also plenty of room for classic stag banter as you'll be taking it in turns to shoot while the rest of the stags watch on, you can expect to hear all the lads cracking crap stag gags - "Oi Nick, your bang's out of order!").

The old faithful, stag party clay pigeon shooting is a top favourite for a Newcastle stag do. Everyone loves it and with a little expert tuition everyone can do it, so you're guaranteed plenty of fun and a get a bit of healthy competition going on with the boys.

It's the perfect competitive stag sporting action, in which the UK has an illustrious Olympic and World pedigree. And now it's time to get your slightly hungover group of sporting legends to rise to the challenge and go out in a blaze of clay dust.