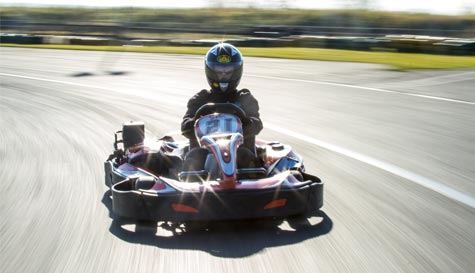 Our Newcastle stag party go karting is just about the most fun you can have with a helmet on! This isn't just any old go kart track, this is a British Championship circuit that the likes of Lewis Hamilton raced on, en route to becoming Formula 1 World Champion.

The 1,200-metre track is based on the world-famous Silverstone track and is the longest track in the UK, racing up to 35 karts at any one time. And they're not just any karts either but 390cc Biz Thunder karts, capable of speeds reaching 50mph, which when your backside is just inches off the tarmac feels unbelievably fast.

The Grand Prix style racing will consist of 15 minutes timed practice/qualifying session, followed by 30 minutes of head-to-head racing with a trophy for the winner at the end. It's finally put to bed once and for all those arguments between the guys over who is the best driver as he'll be walking away with a trophy and probably being unbearably smug for the rest of the weekend. It'll also shine a spotlight on your stag party's very own Captain Slow (we'll leave you to set your own pint punishments). There's also the added possibility of seeing the groom park it spectacularly on the tyre wall.

Alternatively, you can opt for endurance racing where you will get split into two teams with 30 minutes of qualifying followed by 60 minutes of racing.

Whatever you decide Newcastle stag party go karting is wheel-to-wheel racing of the highest order and without doubt one of the best kart racing facilities in the UK. So gentlemen... Start your engines!
Why not add…
Even more shades of madness to your Newcastle stag do with a deal on a second event at our amazing Newcastle activity site. Game on!
Or why not tackle the Ultimate Stag Day?
Ask our team for more details.