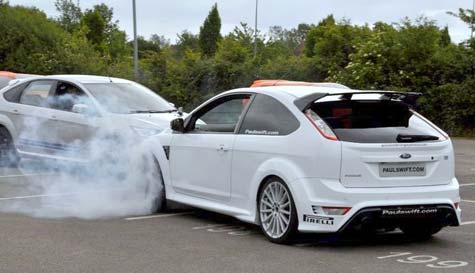 What do The Italian Job, The Bourne Identity and Casino Royale all have in common? Absolutely mind-blowing car chases and stunts, that's what! And our Newcastle stag party stunt driving puts you firmly in the driver's seat.

Even though all those movie stars seem like pretty big shots, chances are, they've got a daredevil stunt man to do all the scary stuff for them - and now you have the chance to be that crazy guy on your stag weekend! For all you petrol heads and metal maniacs, this is the ultimate adrenaline-pumping stag driving experience.

Imagine the Fast and the Furious and The Stig were to have a lovechild, it would be this epic driving experience! We've all tried a handbrake turn in a deserted supermarket car park but now you have a proper chance to really make the most of some custom-built stunt cars. Race against the guys and see once and for all how well you can handle the thrill and power behind stunt car driving.

Test your skills behind the wheel and get the chance to learn some fantastic stunt track skills. Under supervision from our highly trained and professional team, you can push yourself to the limit in our convoy of high-performance cars on a brilliantly designed yet challenging stunt track. It's a fantastic opportunity to test out all the manoeuvres that you don't get generally the chance to perform on the school run including thrilling handbrake and j-turns. With 250bhp beneath your right foot, you might not find it as easy as you first thought!

This is a hugely popular activity with limited availability so please do enquire as early as possible to add some serious va va voom to your stag weekend.