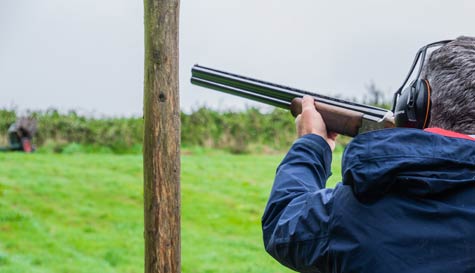 Our Norwich stag party clay pigeon shooting has been one of the most popular stag activities ever since stag parties were invented, and it's been one of the most popular activities for men ever since lads realised there was a way to enjoy shooting pigeons without having to scare all the kids at Trafalgar Square. It's a fun, competitive sport that gets all of the lads outside and enjoying themselves, with bloody big guns without being angrily told to "Lay on the ground!" by members of the flying squad.

With expert tuition, amazing facilities and some first-class equipment, our Norwich ground is ideal for both expert marksmen and complete novices. The instructors will be around to lend a hand to any lads particularly dire, and with 40 clays each included you'll all have plenty of chance to improve and practice. To start with you'll just be shooting clays from the air, nothing fancy - but once you've proven your aiming skills, a variety of different clays will be shot into the air from all directions, speeds and heights, giving you the chance to really test yourselves.

Things will then ramp up with a competition and for Norwich stag party clay pigeon shooting newbies, hearing the trap release, the 'bird' fly, squeezing the trigger, feeling the gun's massive kick and seeing your target evaporate in a mist of clay dust is a huge adrenaline buzz. But beating your mates at it is even better! Game on!