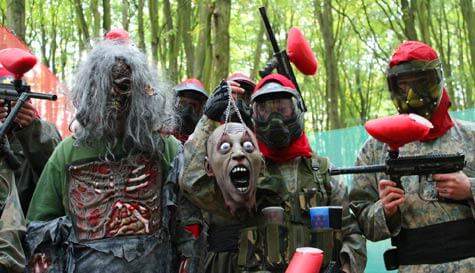 "Darkness falls across the land, the midnight hour is close at hand,
Creatures crawl in search of blood, to terrorize your neighbourhood..."

So said Michael Jackson's Thriller, mind you he also had a pet monkey and kept looking for a man in a mirror so he probably isn't the best source of zombie knowledge. And for this full-on zombie hunting mission, you'll need every trick in the book or the undead freaks will soon be sucking on your brains and using your rib cage as a toast rack.

This incredible, atmospheric site comes complete with coffins, crypts and a 2 storey church, this after-dark session is floodlit mayhem. To paraphrase a certain high street store "This isn't just paintball, this is skull-splatting, undead-ass-kicking, midnight-terrors, stag do zombie paintball."

During the Norwich zombie paintball session, you and the guys will be armed with the latest state-of-the-art weaponry and zombie protective gear then undergo a quick crash course on safety as well as a briefing on the challenge ahead of you, it's really not as easy as Shaun of the Dead made it look, and you can be sure some of the guys will be putting their Calvin Kleins to the test before the night is over.

It's time to kick ass!!

And for added laughs, during the session half of your group will be playing the part of zombies during the session and then you'll all switch sides.
100 paintballs
Semi-automatic weapons
Full camouflage combat gear
An epic floodlit paintball venue
Hot drinks, cold corpses
Hilarious and at times underwear testing action
"For no mere mortal can resist, the evil of the Thriller. Ah ha hahahahha ha..."