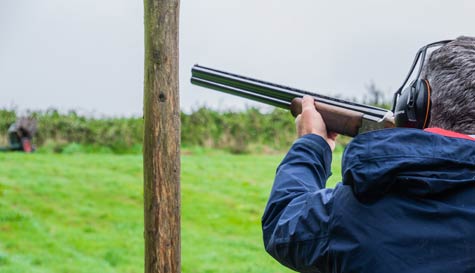 Forget Call of Duty, if you want to find out if any of the guys are real sharp shooters then this is how it's done. There's a good reason Clay Pigeon Shooting is an Olympic sport, it's one of the most difficult shooting disciplines around. It just so happens that us Brits are bloody good at it and have won a fair few Olympic and World titles over the year.

It's also a massively addictive sport that you really will get a kick out of. And we mean "kick". Firing 12 or 20 gauge shotguns will certainly give your shoulders a pounding. If you've never fired a shotgun before then you're in for quite a thrill as these beautifully weighted guns really do have quite some recoil. It's a real adrenalin buzz for the uninitiated and regular shots alike.

What's more, this is a superb sporting competition ideal for competitive stags to get stuck into. As each competitor steps into the 'stand', his fellow stags will be watching every move and of course on hand to congratulate/rip into him for his shooting prowess (or lack of).

You can set your own prize for the top gun if you wish or forfeit for the day's worst shot. It's also a great activity for dressing the groom up with a little fancy dress. We're sure he'll look lovely walking around the stunning site in a pink tutu.

For more sporting action you can add some of the sites other activities to your package to create a full-on day of great stag party action.