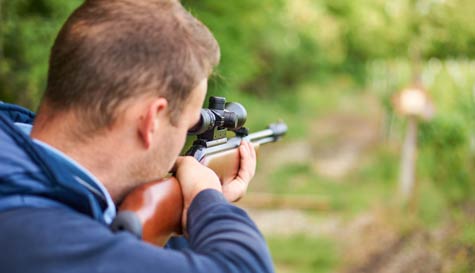 Good, bad, or just plain ugly, every stag group should be adding rifle shooting to their Nottingham stag party. If the opportunity to finally apply all those skills honed by Call of Duty to real life wasn't enough, you'll also be able to finally find and unleash your inner Clint Eastwood, turning your hand to one of the most manly and macho activities of all time.

It's not about brute strength at all! With concentration and control playing a large part of shooting success - so it works perfectly if you've got a group with a fairly broad range of ages and fitness since everyone can take part without trouble. All you need to succeed is a steady hand, and an eagle eye... as well as a little luck and a lot of practice. Luckily, our expert marksmen will be on hand at all times in order to offer tuition, guidance and advice to get you all shooting straight.

The rifle shooting site in Nottingham is suitable for both professional snipers and lads who couldn't tell the barrel of a gun from the butt, with specifically designed targets offering varying levels of difficulty. You'll also get the chance to try a variety of guns, firing both a 0.22 calibre Crossman Air Pistol and spring-loaded 0.22 calibre Hatsan Air Rifle at a range of targets under the supervision of our sharpshooting instructors.