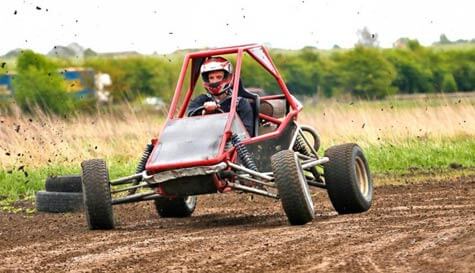 There's no two ways about it, Rage Buggies are EPIC! They are without doubt the angriest off-road vehicles ever. You can pretty much point them at anything and they'll eat up any terrain like a group of stags at an all you can eat buffet.

For guys that are often stuck in the daily grind, have a dull commute and often wish they could head through rush hour in a monster truck, our Oxford stag party off-road karts are the perfect antidote. After a quick safety briefing, you'll get kitted up and then shown the controls of the kart. You'll then have time to check out the superb track before tentatively taking to the track. Once you're feeling steady you can open the engine up and get a little sideway (remember not to go too mad, park it in a tree and your fellow stags will never let you forget it, plus we'd prefer you all to get home in one, relatively intact piece).

The purpose-built off-road track is designed to test you to the max and still have time to really open the buggy up. Once familiar with both the course and controls it's time to get your game faces on in a battle to determine who is your Stag Stig and who is Captain Slow. You'll be racing against the clock and your fellow stags to be crowned champion and claim bragging rights over the lesser mortals who really aren't fit to clean your hubcaps.

"Gentlemen... Start your engines!"
More speed, more action!
Add even more activities at this site for a full day of stag party laughs.