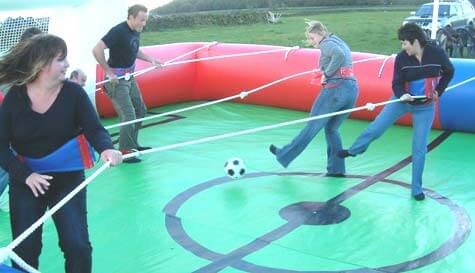 Make a mockery of the beautiful game with our Reading human table football. Turn up to your inflatable stadium and get into position with harnesses to make sure you don't stray out of position; discipline is essential in football after all. Once everyone is ready, it's kick off time, and from there on out expect a tense battle of flailing limbs and catastrophic defensive clangers that'll have all the lads bent over double laughing.

Star players should leave their dribbling skills at home as they'll be no ghosting into the box or leaving defenders stranded. Instead, expect plenty of goals from hard fought scraps and accidental back passes. Just like in actual football, teamwork is crucial to succeed in human table football. Those who shuffle sideways together and pick their angles wisely will have the greatest success out on the pitch.

There'll be tons of banter to be had as clumsy goals and inexplicable decisions keep all the lads laughing from the start of the session through to its end. Expect plenty of jokes should you head to the pub later. Better still, thanks to the unique setting, our Reading human table football is accessible to all skill levels and even players who aren't so athletic: there's not much running around and you don't need to kick the ball far. So get the lads together for some guaranteed hilarity.