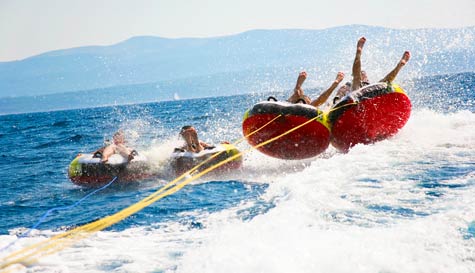 Now then gentlemen, if you thought that ringed doughnuts were only good for eating, you've obviously never jumped into one to be towed at high speeds by a racing speedboat. Obviously we're not talking about the iced, chocolate or cinnamon variety - doughnuts can be huge, inflatable and made of rubber too and they're perfect for having adrenaline-pumping fun in the water as well.

Reading ringos is the ultimate in the lazy guy's repertoire of watersports, all you have to do is lie back, relax, and let a crazy speedboat driver take on you on a wet and wild thrill ride! You really are at the mercy of the water here, so hold on tight lads, it's gonna be a bumpy one...

Get hurled around the water in a stupendous inflatable doughnut by an epic speedboat and try to make sure that your fellow stags lose it before you do at the same time. Stag on stag competition might be the name of the game, but you'll all be at the mercy of our mental driver during your time in the water.

Our Reading ringos couldn't be sillier, and that's why we love it. It really is the kind of stag madness and mayhem that you need to be getting stuck into on your big weekend. After all, it's not every day you have the chance to see the groom plunge headfirst into the water... just make sure you don't end up in there with him!