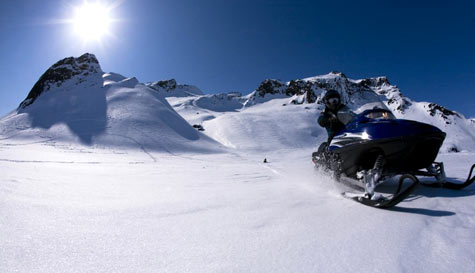 Enjoy spectacular views - and more - racing along on the back of a super-cool snowmobile! Snowmobiles are by far one of the best ways to travel in Reykjavik, letting you see all of Iceland's most stunning sights and landmarks without actually having to endure a walking tour.

Blast away any lingering stag hangovers with some icy fresh countryside air in your lungs. There's no better way to get away from urban life and escape to this land of ice and fire to clear your heads and get back to your stag bests!

Snowmobiling in Reykjavik is the adventure of a lifetime for you and the lads, and the perfect way to celebrate a stag do, racing over glaciers and snow fields, seeing areas of the country humans can't normally get to. The Icelandic snowmobile tour will be taken to the deepest part of the snow, where the sun is blindingly bright, and the views span out over miles. You'll get to zoom up Iceland's second largest glacier and along the ice filled volcanic craters as well. And getting to do and see all of this from the back of a sleek, powerful, high speed vehicle? It makes for a stag do the boys will be talking about for years.