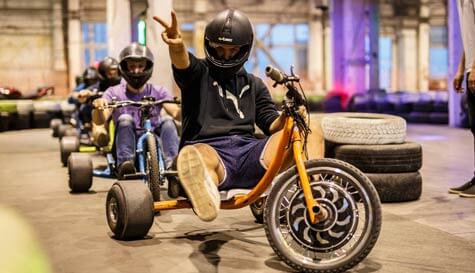 Drift trikes are the natural evolution of go karts but (and we're going to have to whisper this) "they're just so much better!".
Phew, it felt good to get that off our chests and apologies to sports racing fans everywhere. Yes, we know Lewis Hamilton, Michael Schumacher and Sebastian Vettel all learnt their trade-in go-karts but we reckon that's only because drift trikes hadn't been invented yet.
Simply put, drift trikes are the most fun you can have in a vehicle without seeing flashing blue lights in the rear-view mirror.
First up they're electric, that means good for the environment so you can race them without feeling guilt towards baby polar bears.
Secondly, they look cool as folk! You drive in a laid back, easy rider position but these bad boys are anything but easy.
The acceleration is awesome, they burst into life quicker than go karts and the single front wheel makes it feel like a much wilder take off.
They can hit speeds of 50km/h which with three wheels and your backside just inches from the tarmac feels like "Waaaaaarrgh!" miles an hour.
They really do drift, you can get all kind of sideways while still overtaking the groom. "Sucker!"
Up to 8 of you can hit the track at once, with no mercy given to slow drivers.
It's the maximum amount of speed with a minimal amount of tyres and just sheer racing excellence/madness. You'll never want to sit in a car again. "Four wheels, that's just so 1998, three wheels is where it's at, now get off my Robin Reliant and eat my dust... Erm, any chance of a push?"