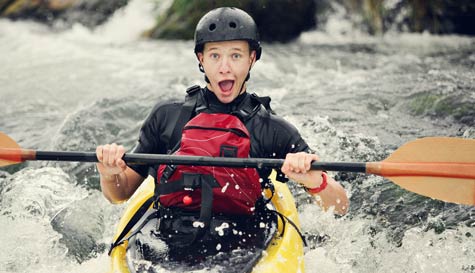 So the stags had a few too many sherbets last night, what they really need is some fresh air, exercise and the chance being swept downriver while the rest of the stags take the piss and take photos ready to post on Facebook.
The session begins with one of our English speaking guides picking you up from your accommodation and taking you to the kayak site. You'll be greeted by the instructors who'll give each stag a wetsuit, helmet and life jacket. Make sure you have those cameras ready for some great stag selfies. GoPro users should definitely have their cameras handy to capture the big adventure.
Once all the guys are suited and booted you'll learn the basics from the instructors, the rest you'll be learning out on the water. The two-man kayaks will be pushed out into what is Latvia's widest river, teeming with wildlife, plus a few hungover stags. But if this doesn't cure those hangovers nothing will.
There are plenty of chances to get photos of both the sites, the wildlife and of course the stags in action (or lack of action depending on the state of them). At the end of the session, transport will be ready to take you back to your accommodation in plenty of time to get ready for a big night out.
Ask our team about Riga Nightlife options and pranks for the groom.