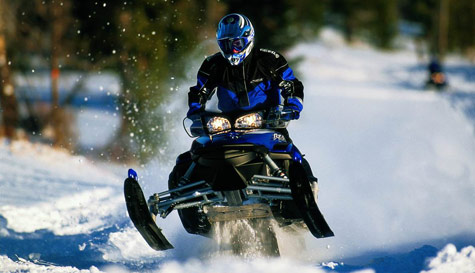 One of the many life lessons we've learnt from James Bond is that there's no cooler looking way of escaping down the side of a snow-covered mountain away from a troop of bad guys than on the back of a snowmobile - awesome jumpsuit and menacing helmet included.

Sure, they were usually reserved for the bad guys whilst Bond favoured skiis, but snowmobiles are faster, more powerful, less wobbly and flimsy looking, and require much less legwork and balance, so they're still our favourite - and any 'A View to Kill' fan can tell you that Bond wasn't averse to the odd snowmobile himself.

The point is, our Riga snowmobiles are epic! There's none of the falling flat on your face and getting a frostbitten nose as you risk with so many other winter sports like skiing or snowboarding, there's no level of physical fitness you need to achieve before you can set off, there's no tiring yourselves out trudging through the snow - there's just racing along over beautiful snow-covered woodland on a powerful, high speed vehicle.

Explosive, fast, snowy carnage for the boys that'll let them enjoy one of the most unique and memorable stag weekend activities around. The views will stun and the lads will relish the chance to get out and about in the thick snow when we Brits come to a standstill after a bit of sleet. What's not to love?!