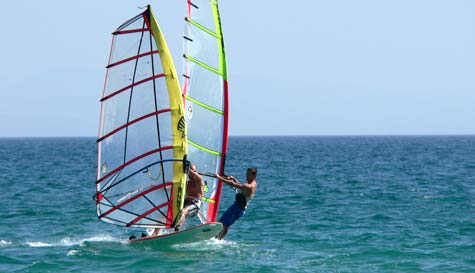 If you just can't decide whether it's surfing or sailing you want on your stag do, then our Riga windsurfing is the ultimate combo for you, our indecisive friend. Windsurfing combines the very best aspects of both and blends them together into a water sport that's all kinds of epic. From surfing, windsurfing takes the laid backboard, the careful balancing act, the desperately trying not to drown, and the gliding along at the mercy of the tide, over-sized waves, and passing sharks. From sailing, it takes the sail.

Aside from its close relationship to two other water sports, Riga windsurfing is totally spectacular in its own right - it's just as exhilarating as its cousins; with the strength of the sea beneath you and the wind tugging you across its surface it's impossible not to feel a little awe-inspired... until you fall off into the water, obviously.

It's also a brilliant activity to try with a few mates whilst you're in Riga too - whilst you can give surfing a go on any UK coast, on any summer holiday, windsurfing is something the boys are unlikely to have tried, and something they're unlikely to try again. Aside from the inevitable laughs to be had at everyone's windsurfing skills, it's also a fantastic opportunity to get out and see a little more of Riga than you can from the pubs. If you're looking to make the most of your mate's stag do with something unique, exciting, and probably quite wet, Riga windsurfing is a fantastic choice.