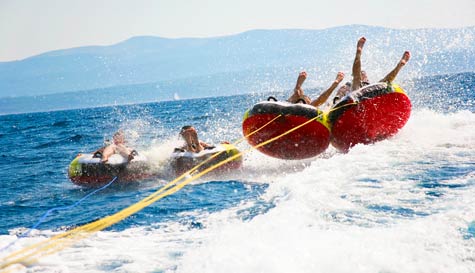 If you've ever sent a stone skipping across the surface of a lake and thought, 'that looks fun', we've got an activity for you.

Although the added bonus of ringos is that you won't be skimming alone as you'll be riding alongside another stag. If you just "happen" to go a bit sideways and that just "happens" to knock him out of the ringo then surely that's his fault not yours?

For the completely uninitiated ringos are giant water rings with special handles for you to hold onto. The rings are secured by rope to the back of a speedboat which once you're seated and ready will carve through the water at high speed. Now you might think the pilot will take care to avoid larger waves and bow waves from other boats (or even your own boat as it twists and turns) but no. Having spotted these you can be pretty sure the pilot will aim directly for them sending both ringo riders flying through the air with the weightest of ease.

The world's most extreme hangover cure!

No complicated techniques to learn, no ropes and pulleys and levers to learn and master - you just cling on for dear life as a speedboat bounces you and your breakfast merrily over the waves. If this doesn't clear those hangovers nothing will. If the groom lands wrong it could also wedge his Speedos where no material has gone before.
WHY NOT ADD...
Ringos work best when combined with other activities for a complete session of mad stag challenges. Get a great deal when you add a second activity.
Ask our team for more details.