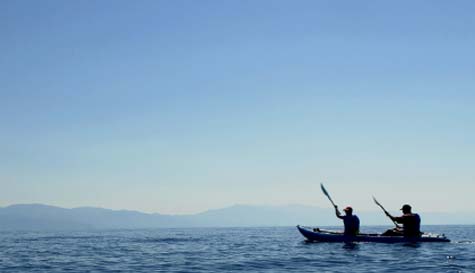 We love a bit of kayaking here at StagWeb, but we're also always looking for ways to add an extreme edge onto our favourite activities, because, well, we can. Sea kayaking will take an old favourite to the next level as you push the boundaries of the traditional kayak, tossing the lads in the deep end as you go... literally.

Sea kayaking does exactly what it says on the tin, you and the boys will take a tiny single-seated kayak out to the deep blue sea, letting you pit your kayaking skills against the roll of the waves and the depths of the ocean. You know, the one where all the sharks, giant squid and Kraken live (Our geography isn't up to much, but we're pretty sure that there's at least a few sea monsters off the coast of Newquay).

Don't fret though, stags, you'll be heading out in kayaks built for the most treacherous of conditions. Sea kayaks are, unlike their older siblings, built to negotiate the rough and tumble of the sea, so you do have a slight advantage. Don't get too cocky though, sea kayaking can get pretty extreme, and if you fall out here, there's no rocky riverbed to stand on.

However, if you and the boys fancy a challenge, then sea kayaking can be extremely rewarding. It's a thrilling ride out to sea that's sure to get the lads pumped up for that big night ahead.