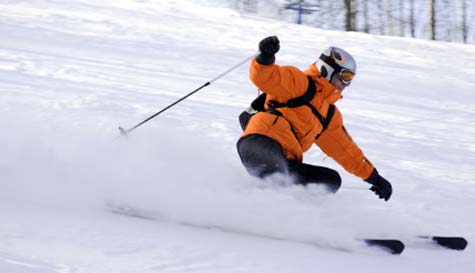 If you're heading to a wintry destination for your big weekend, more power to you. Sunshine and high temperatures are all very well and good, but there's some unbelievable stag action to be had in the snow, skiing being chief among them. Taking on the slopes on your big weekend is an irresistible prospect, combining some seriously fast speeds, silky smooth skills, and the fun of watching the groom go headfirst into a snowdrift.

Whether you're complete newbies or you're ready for a James Bond-style chase scene, skiing is the perfect fit for every stag party. It's fast and furious action that's sure to challenge everybody with a massive range of different slopes to take on.

If you're a little nervous about the prospect of hurtling down a slope with two planks of wood on your feet, then why not tackle the beginner's course? Likewise, if you reckon you're already a pro, head to the steeper slopes and play out a real-life game of SSX Tricky. The choice is yours.

We've got some of the best ski destinations in Europe for you to choose from, whether you fancy a 'one day wonder' in Ljubljana or a week-long skiing stag party in Bulgaria with its legendary apres-ski. This is one activity that can really be as chilled out or as full throttle as you'd like. With big thrills and big laughs, skiing is truly the ideal stag party event.