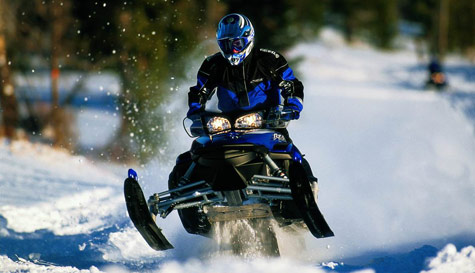 Rev those engines and embrace the chilly winter weather before heading out onto the open terrain with your best mates for an epic arctic explorer's mission. Blast away those hangovers with white knuckle, adrenaline-pumping session of stag party snowmobiles.

Embrace the winter weather and enjoy a high-speed adventure on this fantastic snowmobile safari. Whip up a snowstorm in Krakow or speed alongside active volcanoes in Reykjavik and make your stag weekend one to remember!

After being kitted up with helmets and all necessary safety gear, you'll head out onto the open terrain with your experienced instructors, 'follow the leader' style, to put these beasts to the test! You'll learn how to control and steer your snowmobile, as well as reaching some serious speeds. If you're using a 2 seater craft, you'll take turns as both driver and passenger, giving you the opportunity to sit back and enjoy the ride, as well as some incredible scenery.

Snowmobiles are one or two-person crafts with an automatic clutch that travel over snow at high speeds and don't require a specific track or route, so you can glide over frozen lakes and through winter wonderland forests with ease! This is an activity that none of the boys will forget, so give them some awesome memories to take away and take some striking photos to boot.

Take your stag do from amazing to epic with this awesome, high octane winter sport and earn some serious stag kudos for booking these beasts!