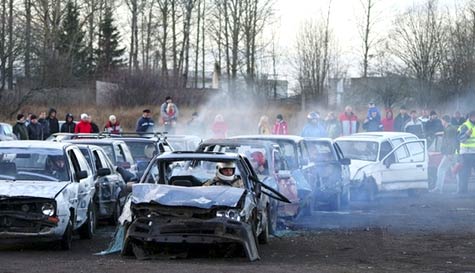 Quite possibly the greatest racing experience on the planet, this really is the most fun you can have on four wheels without seeing flashing blue lights in the rear-view mirror.
If you've already tried go karting, done a track day or just ragged an old banger around a farmer's field, you'll know the sheer joy of pure driving, where there's no speed bumps or white lines to worry about. But it still lacks something...
Your best mates to smash into!
Ok, before we all go getting over-excited and focusing on just how much you'd love to go bumper to bumper with the groom, let's focus on some other important stuff.
The cars are fully maintained, there are strict racing rules in place and marshals will remove any drivers they believe pose a danger to themselves or others. You'll start your session with a safety briefing and a rundown of the rules. Each driver will be kitted up with a helmet and overalls (#StagDoSelfie).
There, that's the sensible bit, now back to action. The cars are all old Russian built bangers, what they lack in finesse they make up for in shoddy bodywork and the turning circle of an oil tanker. Thankfully the team of onsite mechanics and engineers have pimped these bad boys to make them tougher, leaner and brilliant fun to drive. Now add the rest of the stags, a race track and the fact that full metal contact is allowed and you got yourself some glorious car-nage (see what we did there?). There's even some unexpected surprises out on the track like smoke bombs because all your mates wanting to turn your car into a teeny-tiny cube of crushed metal wasn't already exciting enough!
You'll share one car per three stags with safety marshals controlling all the races. Unfortunately, it's your mates controlling the other cars and you've already witnessed their driving skills back home. Good luck!