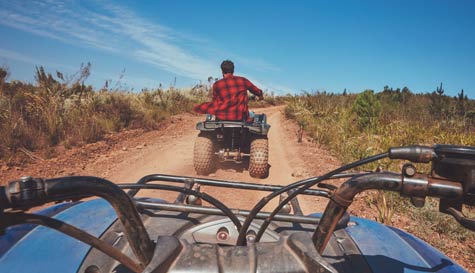 With our epic Tenerife stag party quad bikes, you'll be taking the most rugged routes as you head straight off-road, aiming high! There are two routes to choose from:
Both routes will test your driving skills as you head up with some stunning scenery along the way. The first stretch is a chance to show what you can do on four wheels taking you off-road, eventually, you'll hit roads as you reach Spain's highest village, Vilaflor which stands at 1,500.
After the bone-jarring ride up some of the stags might be in need of a breather and will be pleased to see a local bar where you can all get a grab a drink (preferably non-alcoholic, we'd rather you keep the quads shiny side up at all times for your safety so alcohol is not permitted). You can also stop for a team photo with the impressive backdrop and seemingly endless vista across the island to make you look like the stag heroes you are.
Depending on your route you'll either turn around or keep pressing onwards and upwards. You'll take in the stunning lunar landscape of Tenerife's interior and get up close to El Teide Volcano, Spain's highest peak at 3,760 metres.
But what goes up must come down and once all the guys are ready our Tenerife stag do quad bike tour will bring you back to Playa Las Americas. If you thought heading uphill was good, just wait until you start racing downhill. This really is quad riding at its finest.