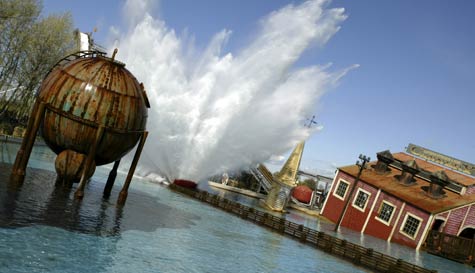 If you're looking for a stag party packed with epic thrills then THORPE PARK Resort really is the place. We could make the obvious jokes about a rollercoaster being a good comparison to the life the groom's about to embark on as a married man but we'll leave the bad jokes for the father of the bride's wedding speech.

What we can say for sure is that the THORPE PARK Resort offers world-class and record-breaking, rides that thrill-seeking stags will love. And with unlimited rides, you can really make the most of your day.

Attractions include:
Tidal Wave - Plunge over 80 feet on one of the UK's tallest log flumes: game on!
Colossus - A total head rush, as you experience ten adrenaline-fuelled inversions at speeds up to 45mph.
Nemesis Inferno - Reaching speeds of 50mph over 750 metres of twisting track! Quite simply epic!
Stealth - 0 to 80mph in less than two seconds with a 205-metre high view. Possibly looking down at your breakfast.
The Swarm - Spin 180 degrees and plunge 127 feet at speeds over 60mph on the UK's first winged rollercoaster.
SAW - The Ride! - Drop 100 feet from a 100-degree twist, the first horror movie-themed ride of its kind in the world. Do you want to play a game?