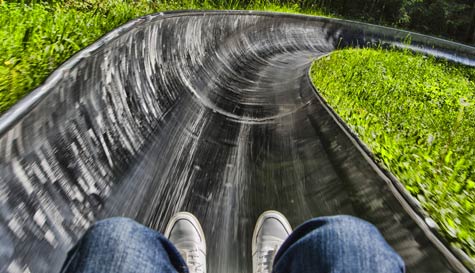 Forget everything you thought you knew about tobogganing (it shouldn't take too long). Dragging your kid brother through the snow ready to shred your new pair of Dunlop trainers as you get a face-full of worryingly yellow snow. Scooting down the 18th fairway of your local golf course with just a tea tray and puffa jacket for safety. Tobogganing is quicker, slicker, and just about the most fun you can have at 40mph with only a handbrake for company.
You and your mates will be fired off down a run of about 650m, down straights and round bends, with only a little stick to help you control your speed. If you and the lads want some high octane, fast-paced action without relying on the usual motorsports, tobogganing sets the pace for an epic stag weekend.
Place your wagers and ramp up the action with penalty pints and victory bragging rights/tipple of choice to the winner, the race-off decisions are entirely up to you. But you can be sure tobogganing will give you all plenty to argue about until those final race times come in.
This is a great activity to add to any package, fast-paced, with scope for creating some serious grudge matches and wind up your fellow competitors. Unusual, inventive, and ruddy quick - if you're heading to Budapest you'd be mad to give this one a miss.
Mad, bad, hilarious to know with a great chance of capturing the groom in action to post on Facebook/Instagram. It's also something the guys are really unlikely to have tried before so now's the chance to tick it off the bucket list… Before getting real at the next Winter Olympics! #GoingForGold.